Somehow while I wasn't paying attention a few year ago, the Cleveland Cavaliers became a kickass basketball team. I had so much fun watching them on TV last year. Yesterday, I got to go see them in person! My family bought some tickets from a bunch of season ticket holders who couldn't make it, so we got fantastic seats too.
I needed to write this post because you just have to hear about the Cavs' totally amazing player/team intro. When they run out onto the court, giant flames shoot out of the scoreboard!! It's amazing. Check out the picture and then multiply how badass that looks by about ten and throw some solid rap music in the background. That's what it was like. To make this whole thing feel even more like a circus, the halftime show was a Chinese lady called the 'Red Panda' on the world's tallest unicycle who caught and stacked bowls on top of her head.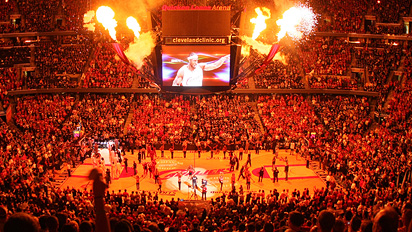 The Cavs were up against the Houston Rockets. Yao Ming plays for them and I'm sure I am not the first person to point this out: that guy is really huge. Watching the Cavs try to guard him was absolutely hilarious. One thing that I didn't expect: all of the Chinese people in Cleveland (of which I estimate there are about 15) came to the game to cheer on the Rockets instead of the Cavs. I guess Yao Ming's a pretty big hero over in China.
Watching the Cavs play this year reminds me of seeing the Bulls play in the 90's. They're really good. Looks like the Denver Nuggets and the Boston Celtics are having good seasons too. Who am I supposed to be rooting for? I just moved to Denver from Boston but I grew up near Cleveland. I think I'm a Cavs fan.
Tags: No Comments